Here are the steps to what I am calling a Perpetual Money Machine.
You are going to start with the 10ToInfinity site, but ProOneGlobal is the
business that will make the money for you (PopG for short).
Think of 10ToInfinity as your high-powered marketing machine, it will drive people to your ProOneGlobal business.
The ProOneGlobal business and compensation plan are remarkable, extremely fast, and easy to earn with.
Everything you do to grow your business will be from 10ToInfinity.
Soon, 10ToInfinity will have a payment processor within the site for people
to pay their $10, but until then, these are the exact steps to begin.
STEP 1: You will Register on the 10ToInfinity website – send me an email at info@loripetrosino.com right away for the link to register because I'm placing people now underneath my 8. When you have the link, then proceed to STEP 2 below.
STEP 2: Follow through each of the 10 steps on the site, and when you get to Step 7, you will be directed to Register for your PopG account. Register there. This is an necessary step because it will sync both of your accounts together.
STEP 3: While in your PopG account, add your $10 payment by clicking on 'FINANCE' and then '10ToInfinity Tool'. If you are going to share this with others, add at least $100. See more about that here before you add funds.
You will send Bitcoin from whatever crypto wallet you use (you don't need Bitpay, that is PopG's wallet processor).
Choose your amount $10 $40 or $100, and click 'Deposit' then 'Submit Payment.'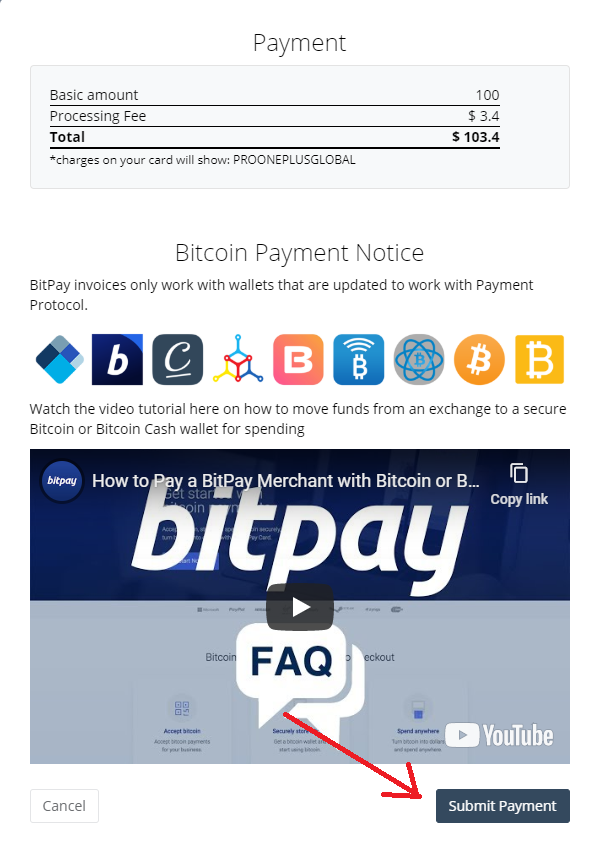 From the next screen it will ask you to choose what wallet you will be sending from. (In the image example, I chose Exodus) CHOOSE YOUR WALLET.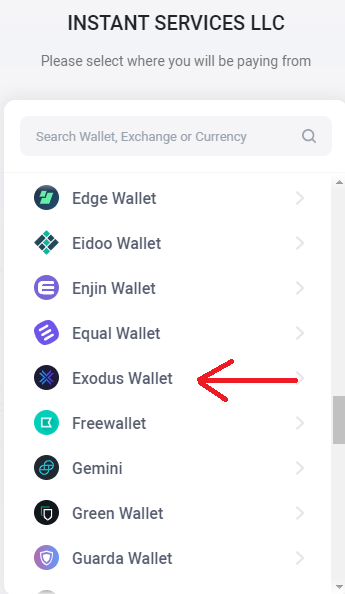 The screen after that you will choose how you will pay (Bitcoin, Bitcoin Cash or Ethereum) and click on your choice.
You will be taken to a page where you can scan to your wallet or copy the wallet address from the 'copy button'.
Then go to your wallet and paste in the wallet address and exact amount.
Easy peasy.
Once payment is confirmed (be patient), your deposit amount will be reflected in the '10ToInfinity Tool' area under the 'Finance' tab. It may or may not show on the main dashboard.
STEP 5: Once payment is confirmed, you can then go back to your 10ToInfinity site complete Step 8, it will show you have made your purchase already. Move on to Steps 9 and 10.
STEP 6: You will now see on your 10ToInfinity Dashboard that your referral link is available. Copy it and save it somewhere. THIS is the link you will use to share the $10 business.
STEP 7: Give your prospects this lists of steps to follow.
Now here is what to understand:
$10 only needs to be out of pocket ONCE, and you will leverage your earnings within the system to grow your income.
For instance, within PopG, your goal is to activate Fast Track, and ultimately activate INFINITY as this will MAXIMIZE your earnings. This is your main goal and very easy to do if you follow the steps on this page.

From those that come in under you at the $10 level, you will use the earnings you make to active Fast Track and Infinity within PopG, and to stay active, you will do so every month using earnings from WITHIN the system to keep Fast Track and Infinity active.
This means, there is never a need to come out of pocket aside from your initial $10!
To pay your $10 through PopG to get this rolling, they accept Bitcoin payments. If you do not have Bitcoin, or a Bitcoin wallet, (you need to get one, open an Exodus.io account).
In the meantime, let me know if Bitcoin is holding you back from beginning, and I can pay your way in and you can PayPal me the $10.
A ONE TIME out of pocket $10 business is very easy to grow. You only need a few people to be making hundreds, and then thousands weekly, YES WEEKLY and it can happen very fast.

The goal here is to grow your network deep, not wide. Therefore, I will be putting 8 people directly under me, and then helping my network by placing new members under others.